For those of you fortunate to watch our Timberwolves play basketball last night, you saw a few things we haven't seen much of lately:
1. Closing out a team in the fourth quarter
2. Ball movement
3. A little defense
4. Winning (ten wins!)
Now, I'm not going to sit here and rant and rave about how incredible the team was at these different things, but there were some fun signs against a decidedly poor Eastern Conference team that's beed wracked with injury (Blatche, Howard, ) and is dealing with new pieces after the Arenas trade. All that aside, fun night. I was at the game compliments of a lovely lady on the Timberwolves staff who reached out and came through with sweet seats, so that was nice too. A couple other things: I forgot Randy WIttman and Sam Cassell were on staff with Flip's Wizards. Weird seeing all of them. Also, Flip has been doing some spray tan or something… dude looks orange.
On to the game!
The first quarter went the way a lot of our first quarters go. Good energy, kinda flaily at times. Kevin "The Optometrist" Love was pretty electric, scoring 14 of his 21 first-half points in the frame. Loved the high screen where instead of rolling to the basket, he pops out to the top of the key and receives a pass from the driving guard. It must be maddening to opposing big men to guard a guy like Love who has such excellent range.You think he's going to dive toward the basket, so you're sagging into the lane, but then he's standing out top. Swish!
Also, I was on the jumbotron in the first quarter as I was recording some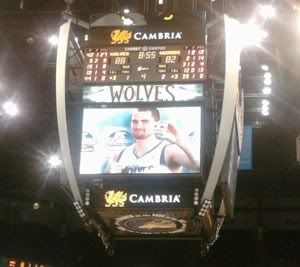 notes for tonight's little recap. Had a few friends say they saw me. So embarrasing!
I've always wanted to give one of those cameras the finger, and totally whiffed on my golden opportunity. Also, after pouring in 40+ points in an overtime game earlier this week, Nick Young had to have been on the Wolves' radar, as they put Corey Brewer on him all night. It was a size mismatch in Brewer's favor (height-wise), and he really made it difficult on Young (5-of-14 shooting).
Quarter two saw Jonny Flynn be Jonny Flynn. Lethargic. Lost. Missing poor shot attempts. It's sad to see him look so much worse than he did last year. Not only was he terrible on offense, he combined with Ridnour, Wes Johnson and Wayne Ellington to allow Kirk Hinrich and John Wall to get in the lane at will. And when they got into the lane, reserves Nikola Pekovic and Anthony Tolliver had absolutely no idea what to do. Had Rashard Lewis not been in foul trouble, Washington probably would have taken the halftime lead . Thankfully Love and Darko were able to sub back in and feast on a depleted frontcourt and keep the game in hand going into halftime.
The main thing I remember from the Third Period is Rashard Lewis taking the game to Kevin Love. There was a clear emphasis on making him work at both ends of the court, because to that point Love had basically been standing around the paint. Because Washington was forced to play small, Love was matched up on Lewis, who poured in nine of his team-high 19 points, including some really excellent drives toward the basket, and a three ball. Love struggled quite a bit against the quicker Lewis, who fronted the post and was quick enough to force Love into passing the ball or shooting a jumper. It didn't go well. What was great though, was that the team didn't force the issue, and started finding Darko around the basket. He had eight of his 14 points in the second half, and three of his buckets were assisted. Just enough to keep the defense honest. Also, I noticed that when anyone but Brewer guarded Nick Young, he shook free through screens and got open looks. Brewer did an excellent job of fighting though.
Loved the second half of the fourth quarter. If you saw it, you know exactly what I'm talking about. After the game, Rambis even talked about how it was "how basketball was meant to be played" with a straight face. And I believed him! The beginning of the quarter was rough, when Washington made their charge took the lead late (4:54 left) at 92-90, as we've come to expect from this Minnesota team. But what was awesome is how they went effing crazy on the Wizards with a 19-5 run to end the game. It was GLORIOUS, I tell you. I just sat there and smiled for like 15 minutes in a row. A bunch of players hit a bunch of shots, but the best exchange came after Love hit a three-pointer to give the Wolves a 95-92 lead. Washington called a timeout to try and stem the tide, and out of the break, Brewer picked off a John Wall pass and found Wayne Ellington in transition, with space in the right corner. With a defender closing, he had the choice: Take a rushed three-point shot, or drive the lane and see what happens. I fully expected him to squeeze off the triple and try to be a hero, but he blew me away. Ellington slashed baseline toward the hoop, then found Darko filling the lane for a two-handed jam. Unselfish basketball. YES! What's more, the next time down the court might have been the best possession I've seen this year. It consisted of seven passes. No dribbles. Textbook ball rotation that swung from right to left, into the post, back out and around to a wide-open Ellington, who nailed a dagger three pointer. Next possession? Ellington dropped a dime to K-Love, who buried his fifth trifecta of the evening en route to a 35-point, 11-rebound performance.
Love was the game MVP, but Ellington, despite some defensive issues, was a nice catalyst off the bench. Great work. I'd be remiss in forgetting to name Luke Ridnour as a solid performer as well. He hit quite a few early outside shots to put Wall on his heels, and seemed to remember his role as facilitator. Nine assists! Nice.
All this without the injured Beasley!
One more note: during the postgame press conference in the media room Star Tribune columnist Jim Souhan kept getting refills on his soda while Rambis was talking. What the hell? Can't wait to pour more carbonated beverage down your throat till afterward? You're not that famous, guy!
I think that's everything. Good night to you all. Talk more on the boards!