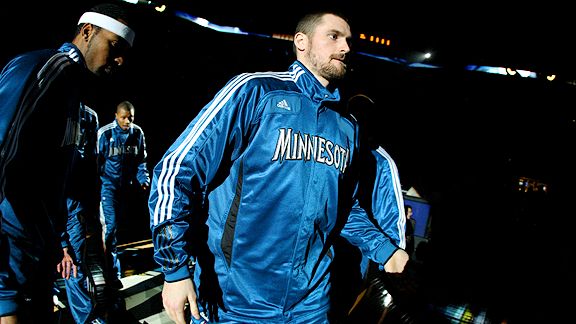 Steve McPherson of A Wolf Among Wolves reminded everyone on Twitter this morning that while we reel from the recent loss to the Nuggets, last year fans were celebrating .500 like it was 1999. That's the amazing thing about basketball, as quickly as momentums shift in a game so do our expectations and feelings about a team's potential. The first ten games of this season have offered glimpses of how good this team can be even in the midst of all their injuries. For this reason, it seems reasonable to see a team better than 5-5 even if the past held a different standard. But hopes and dreams aside, .500 is a fitting mark for the Wolves' season thus far. Good play has been matched with bad luck. Love's surprise return only adds to the mixed feelings of anticipation and caution. Tonight the Wolves will look to take one more step to develop their chemistry, overcome their physical setbacks and learn their sets to become the better than .500 team we believe they can be.
Love's Return: Safe to say no one predicted that Love's homecoming would include anything more than a Thanksgiving dinner with the fam. Yet here's Love after 5 weeks of rehab and coming off a 35 point, 14 rebound debut ready to show off for his home state. While his play on Wednesday was impressive, Love admitted to feeling sore the morning after, signaling their my be more rust to his game than his numbers against the Nuggets alluded to. It's also worth noting that Love's recent performance resulted in less plays designed for AK and Pek. Love will have to learn quickly how to operate with his teammates on the court if this team is to succeed on the road. Tonight's game may point to how long or short this process will ultimately take.
AK vs Batum: Batum has been great this season, so has Kirilenko and at this point it seems hard to say if the Wolves ended up with right guy. Kirilenko's do-it-all game and defensive prowess has been key in keeping this Wolves squad competitive. However, Batum has shown he can be a total game changer as well with strong performances as seen recently against Houston and Chicago. Batum currently averages 20.1 PPG and 6.0 RPG and will need to provide a line similar to that in order to get a win tonight. While those kind of numbers aren't out of the question, it's likely Kirilenko will prevent Wolves fans from wishing the Frenchmen was on this team. I expect Kirilenko to prove why he is such a valuable commodity and the reason why this team is 4th in the NBA in defensive efficiency instead of 30th where Portland currently sits.
Who to Fear?: If AK does in fact shut down Batum then Portland will need big offensive contributions from either Lillard or Aldridge in order edge closer to their Northwestern Division rival. Lillard has dazzled thus far and will likely continue his impressive streak tonight with Ridnour too slow to contain the ROY candidate and Barea still reeling from his mid foot sprain. It's not crazy to think Lillard could be the one to bring home a win if the Wolve can't generate their own offense. Aldridge on the other hand has yet to find his sweet stuff, shooting within 30-35% on multiple occasions this season. In the past Love and Aldridge have traded off fantastic performances, however this game does not feel like a great opportunity for either one to break out. Both seem to need more time to return their elite status making tonight's matchup more of a stalemate than a true battle of talent.
Prediction: Even if with all the questions marks surrounding the Wolves a win against the Blazers is certainly within reach. Come tomorrow morning we will be sitting pretty above .500 once more.
Final Score: Wolves 106 Blazers 94.
MVP: Kirilenko 16 PTS, 11 REBS, 2 BLKS, 5 ASTS