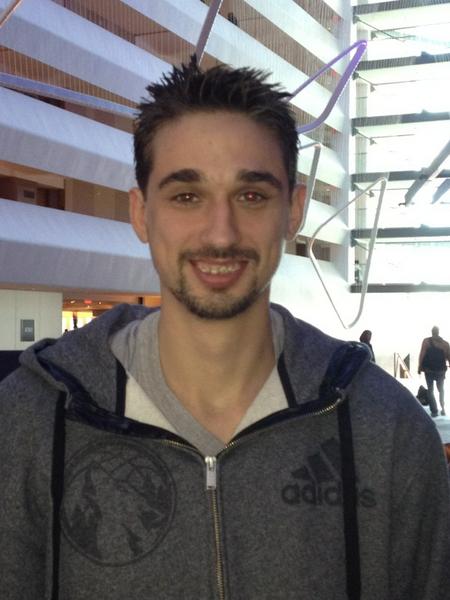 The above human is an actual NBA player
Sorry, not much time for a preview today. A few quick bullets.
–Take Care of the Ball. Last night was an outlier in every sense of the word in terms of turnovers (and the dreadful transition D after said turnovers). 24 total. Let's hope the Wolves can take care of the ball a bit more tonight. While last night was abysmal, we can rest on our laurels that the carelessness is highly unlikely to happen often.
-B-Roy Needs a Redemption Game. Easily one of the worst NBA stints I have ever seen, and watching this team since 2009 has yielded a mountain of suck. Brandon Roy looked absolutely terrible. Let's continue to hope he still has something left and can redeem himself tonight. Give it a few more games before overreacting.
–Shved got a haircut. This is neat, yet makes him look slightly less interesting.
–No G Wallace tonight. Crash crashed. One less threat out there. Keep an eye on that Net's backcourt fronting the scoring load (and I definitely lump Disney Lopez into the backcourt category, since he plays like a shooting guard). But if Kyle Lowry is any indication, get ready for a huge night from Deron Williams. If Rubio is considered an "ace" defender, then Ridnour is more like a two of hearts.
–Barea Concussed. Will be a game-time decision as our *gulp* leading scorer.
–Rick's Rotation. Odd that he is still tying to 'find his way' in terms of minute management. I am a little confused why Pek isn't getting the ball more or playing more as our obvious go-to scorer. Hopefully this isn't a trend.
Prediction: A tough trip to 1-2. Brooklyn will be a tough team with above average options all over the court. It would take a sudden Zen moment and some help from the Russian Mafia to win this one. Love can't get healthy soon enough.